Enigma – Breaking The Code (Creative Problem Solving and Decision Making)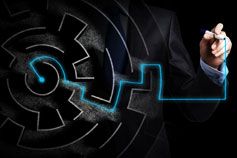 Fast facts
Level: Professional
Intake: On Demand
Study Mode: Session
Duration: 2 Days
Overview
Having good strong problem solving skills can make a huge difference to your career. Problems are at the center of what many people do at work every day. Whether you're solving a problem for a client (internal or external), supporting those who are solving problems, or discovering new problems to solve, the problems you face can be large or small, simple or complex, and easy or difficult.
A fundamental part of every manager's role is finding ways to solve them. So, being a confident problem solver is important to your success. Much of that confidence comes from having a good process to use when approaching a problem. With one, you can solve problems quickly and effectively. Without one, your solutions may be ineffective, or you'll get stuck and do nothing, with sometimes painful consequences. Having identified the problem and fining the solution, making the right decision is the next key to your success in your career. This program is designed to address and enhance both critical skills.
Learning outcomes
At the end of this training you will be able to:
1. Understand and apply an effective problem solving process.
2. Recognise and resolve business problems.
3. Collaborate with others to solve problems.
4. Use different techniques to solve challenging problems.
5. Generate options, and exercise choices wisely.!
6. Understand and apply a decision making process.
7. Use different techniques in decision making.
8. Exercise your choices effectively.
Course contents
Creativity & Its Barriers To problem Solving
▪ Frames of Thought
▪ Personal Beliefs & Values
▪ Mindset
▪ Looking for Correct Answer
▪ The Art of Dividing a Pumpkin
Thinking About Problem Solving
▪ Your Approach to Problem Solving
▪ The Mental Roadblocks
▪ Perceptual Positions
Define the Problem
▪ DOOR Model
▪ What is The Problem?
▪ Handy Model
Gather Information
▪ Qualitative & Quantitative Data
Generate Options
▪ What Techniques to Use
▪ Radical VS BAU
▪ Big Problems
▪ Ask New Questions
▪ Find the Paradox
▪ Idea Storming
Evaluate Options
▪ Prioritizing Matrix
Solve The Problem
▪ TOTE
▪ Create a New Lense
▪ Set a Breakthrough Challenge
▪ Implement & Evaluate
Decision Making Process
▪ Define the Objectives
▪ Four Ways – Emotional Language
▪ New Measures – Fresh Eyes
▪ Evaluate Options
▪ Catch & Counter
▪ Framing
▪ Implement
▪ Follow Up & Feedback
Putting It Together
▪ Solving Predefined Real World Problems
Methodology
Trainer incorporates technologies learnt from Neuro Associative Conditioning, Neuro Action Technology and fundamental Neuro Linguistic Programming with Action Learning to create an environment where participants will be fully engaged on both conscious and subconscious level.
Training is delivered in a highly interactive and experiential way. Concepts and background information are presented through group exercises, discussion and activities creating an environment that facilitates accelerated learning and application.
This program is also designed to be immersive and will create a conducive and fun environment where participants are given a series of problems to solve and using the skills they learnt, will internalise and practice the problem solving and decision making techniques.
To gain maximum training ROI, the trainer will facilitate discussion of real issues and challenges that the participants face in their work and private lives. Each activity will be thoroughly de-briefed to link the learning to real life situations.
Who should attend?
Executive,

Team Leaders

Managers