Powerful Team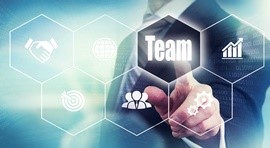 Fast facts
GOOD TEAMS CAN WIN AGAINST ANY ODDS!
A 2 day Transformational, Interactive Learning Experience
The business as a whole will benefit from more engaged, self-reliant, responsible team members who commit to maximising collaboration, quality, efficiency, productivity and exceeding tough performance targets.
The course has over 98% exceeded expectations and 100% satisfaction rates.
Join Us. Find Out Why.
Overview
This programme is delivered by our People Development expert. The programme is designed to meet the needs of the organisation, seeking to optimsze the ability to communicate effectively across the business and creating a more powerful team.
This course explores how leaders and managers should communicate to get the most from their team, colleagues and the wider business.
Learning outcomes
What You Will Learn:
Knowing how to motivate and bring the best out of all team members.

The secret ingredient, The Team Code that enables teams to win, like you have never seen before

The method of how to grow and manage a regional or even global team with the same performance as the teams you work directly with.

Able to create greater collaboration, clear communications between and within teams.

Knowing how to bring out the creative genius in teams, to solve problems and create products, strategies and plans that help the business bottom line improve
Course contents
What does it mean and how to reduce or if possible eliminate disputes and disagreements in your teams

Build trust and co-operation between new and existing teams

The Team Code

How to create more motivated team members

What it takes for better collaboration in the office and better understanding of each other's issues and priorities.

The ingredients of how to grow and manage a regional or even global team.
(Disclaimer: the content title above may differ slightly during the sessions due to presentation improvisation from time to time)
Methodology
Interactive lectures and group discussions 


Group participation and presentation

Games about current communication issues, such as fault reporting, customer complaints, etc.

Simple in-class experiments and exercises i.e. role play on actual scenarios given by the team.


The emphasis of this programme is on the applications using behavioural science (and not mere 
conceptual understanding) 

Who should attend?
Teams who want or need to move performance towards exemplary.

Popular with project teams as well as established teams,

Organisation's wanting to achieve a swift and significant mindset and skills set change.