Project Management: Practical Tools and Applications- Two Days Workshop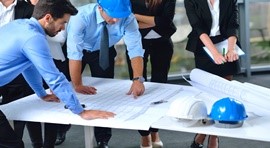 Fast facts
Level: Professional
Intake: On Demand
Study Mode: Part Time
Duration: 2 Days
Overview
When processes and systems for them have been established, organisations still find areas where controls and know-how is lacking, especially for some activities for a specific period of time, called projects. Because of their short-term nature projects are not controlled and monitored effectively, often leading to over-runs and losses.
Project Management is a skill that has to be learned. Many people get involved in managing projects without the proper guidance and training, eventually learning from unsuccessful projects. There are many facets to being a successful project manager and the really good project managers are highly sought after.
A project starts from an idea in an organisation and slowly evolves into an opportunity before it blooms into a project. Learning therefore has to go through strategic planning, project feasibility study and the Project Management Life Cycle. We call this process.
This course is intended to train personnel involved in such projects to assess, capture and control them and make the project progress transparent, effective and successful.
Learning outcomes
Apply the skills being learnt into practical activities - Practise any current project.

Learn to improve project success rate.

Develop and enhance the abilities and skills to implement project based activities.

Define the scope of projects to have a clear idea on what has to be done.

Plan, implement and control such projects.

Recognise project deviations from the plans and take corrective measures.

Complete projects in the shortest time frame

Generate project management reports

Identify the major value drivers, possible issues, barriers, uncertainties or risks

E

nable team collaboration and understanding to focus on achieving success

Learn about project

Initiation, Planning, Execution, Control, Completion

Understand how to provide guidelines and a standard method to ensure that projects are conducted in a disciplined, well-managed, and consistent manner

Learn to complete projects on time and within budget, delivering quality

Manage project risks, budgets and schedules effectively
Course contents
Day 1

Projects and their management

Defining Projects

Managing change through projects

A structured approach

Project management models

Project Context

Corporate strategy

Business planning

Selecting projects

Project based management

Strategic management of projects

Pitfalls and strategies for success

Scope management

Work breakdown structure

Planning - Strategic and lower levels

Managing project organisation

Processes, Types, Responsibility charts

Work content, Equipment and drawing registers

Identifying Critical Path using PERT

Diagram

Allocating Resources

Assumptions and risks

Project managers and their teams

The role of the project manager

Day 2

Managing project quality

Achieving quality on projects

The cost of quality

Estimating & Managing cost

Controlling costs: obtaining value for money

Managing time

Estimating & controlling duration

Managing files and systems

Effective delegation practices

Managing risk

Identifying, Assessing, Reducing, Controlling risk

Structuring, nesting project plans

Balancing system objectives

Base lining

Undertaking Projects

Project definition, Feasibility, Design and Appraisal

Project Initiation and Start-up

Implementation planning, Work allocation

Execution and control

Gathering data and calculating progress

Finalization and close-out

Transferring the product

Obtaining the benefits

Disbanding the team

Post-completion reviews
Methodology
Lectures, role play, case and financial analysis, brainstorming, group discussions etc.
Who should attend?
For existing project managers and to be project managers.

Managers, Engineers, Executives who are involved in the management and implementation of project based activities.