Public Speaking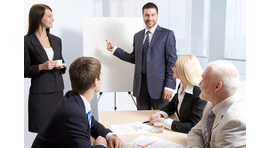 Fast facts
Level: Professional
Intake: On Demand
Study Mode: Session
Duration: 2 Days
Academy: Prodigy Asia Professional Development Programmes
Overview
To develop the necessary confidence to address any level of people, regardless of status or position.

To develop the necessary skill to effectively impart a message in a creative and a clear manner.

To develop the awareness on how effective speech can enhance career advancement.

To develop the passion for public speaking.
Learning outcomes
By the end of this course students should be able to:
Speak more confidently in front of an audience utilising a variety of delivery skills such as eye contact, gestures, movement & vocal variety.

Develop Informative and Persuasive speeches through research, audience analysis, etc.

To enhance a presentation via the effective use multimedia & visual support.

Critically assess their own speaking, and that of others.
Course contents
The different platforms of public speaking

The benefits

Examples of great public speakers and their characteristics
What it takes to be a great public speaker.

Difference between 'natural flair' and 'unnatural flare'

Activity – A video clip of a public speaker
Barriers to required competencies
Identifying personal barriers

Understanding these barriers in a real way

Removal of barriers

Activity – Rope trick
Identifying their need

Identifying their expectation

Fulfilling that need and expectation

Verifying the fulfillment from the audience

Role play – addressing different audience
The introduction

The contents

The closing

The follow up (if any)

Activity – '5 minute speech'
Know your topic

Customizing the topic

Developing topics creatively
Continuous implementation
How not to lose the edge

Mindset for continuous improvement

Activity – decisions and resolutions
Methodology
Interactive lecture

Video show & analysis

Role plays & evaluation

Games
Who should attend?
Executives

Engineers

Managers

Leaders